What is Rapid Transformational Therapy (RTT) ?
RTT–or therapy for busy people as I like to think of it–is an innovative form of therapy that combines the best of hypnotherapy with behavioural psychology to relieve people of anxieties, emotional blocks and even acquired physical conditions in just a handful of sessions.
It can be delivered online or in person and is perfect for people who don't just want to "talk" about their problems, but actually want to solve them–fast!
What can rtt do for you?
RTT can help you overcome those persistent challenges in life where you know you need to make a change, but can't seem to make the change stick.
These are just some of the issues RTT can help with:
Increase confidence and self-esteem
Weight-loss
Overcome the fear of failure
Increase focus and motivation
Fertility
Irritable Bowel Syndrome (IBS)
Beat procrastination
Manage anxiety
Shake bad habits
Treat phobias
Adverse childhood experiences
Overcome traumatic events
Addictions
Eating disorders
Enhance performance in sport & the arts
Overcome feelings of inadequacy
Skin disorders
Relieve stress-related health problems
Ease chronic pain
Release resentments towards family and partners
Meeting deadlines and punctuality
Treating insomnia
Why is rtt different?
Unlike traditional talking therapies which try to deal with the issue at the level of conscious awareness and logical analysis, RTT recognises that if you could solve the problem at the intellectual level, you probably would have already.
This is why positive affirmations are often ineffective when used on their own, because reciting language at the conscious level is insufficient for those words to take root and create change where it counts–in your sub-conscious.
RTT is different because it harnesses the power of your Alpha and Theta brainwaves to allow you to access significant memories and release trapped emotions. RTT allows you to dialogue with your sub-conscious and–with the help of a trained practitioner–command and reprogramme it to serve you instead of sabotaging you.
RTT is a rigorous, award-winning approach to therapy that has been used to improve workplace performance by the following top-tier companies:
Google
IBM
Condé Nast
Disney
Ernst & Young
Penguin
Marks & Spencer
Academy of Chief Executives
Working with me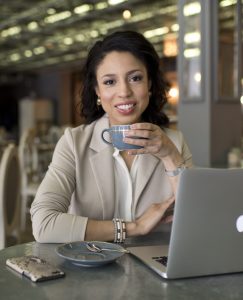 Having tried numerous healing modalities in the past only to be left disappointed, I am proud to offer RTT as a service because it is fast-acting and effective. When working with my clients I use RTT to get to the root cause of why the issue is presenting itself. Finding and shifting this root cause leads to long-lasting results.
As with my coaching practice, I'm committed to only working with the best and have been trained in RTT by its founder, Marisa Peer, who has spent over 30 years developing and refining this technique.
I provide sessions online so you can access RTT safely in the comfort of your own home, wherever you are in the world. After your session I provide you with an audio hypnosis recording that you can listen to again and again to lock in lasting benefits long after the session.
If you are in physical or emotional pain and want rapid results, RTT aims to deliver lasting change in just 1 to 3 sessions.
If you would like to learn more about what RTT can do for you or book a session, please contact me at info@ciaradavies.com for a no-obligation consultation.
Here's what people are saying
FAQ
1. How long does it take?
Each RTT session lasts between 90 minutes and two hours. For that reason, we ask you block off a full two hours in your calendar to make sure you're not rushed.
2. does it work online?
Yes! RTT is just as effective online as it is in person, which means you can experience RTT from the comfort and convenience of your own home. In fact, I deliver most of my sessions online via Skype to clients all around the world.
3. What does it feel like?
The experience feels different for different people. Some people feel a floating sensation, some do not. Others may feel sleepy, some do not. Most people feel relaxed and at ease.
4. Can I get "stuck" or be manipulated while in hypnosis?
No, true hypnosis is not a stage trick. There are no pocket watches and you won't bark like a dog. You retain complete control and awareness the whole time. You can talk, move your body, open your eyes and even get up and leave if you wish.
5. What if I think I already know the reasons behind my issue?
Any insight you already have from previous therapy or your own analysis may be helpful. However, if knowing the reason were enough to heal you, you would have solved your problem already. Through RTT you will learn that the root cause behind many of your issues may not be what you think it is–that's why you've been unable to shift this pattern until now. Often your issue will be resolved by releasing a belief or judgement that was created by an event–great or small–in your formative years.
6. When will I start to see changes?
One to three sessions is usually sufficient to deliver lasting change. Changes may be immediate: you feel a massive shift in you body, thoughts and behaviours right away, or incremental: you see consistent shifts every day or over time.
Curious about whether rtt could work for you?
Then send me an email at info@ciaradavies.com to schedule a free consultation to discuss if RTT is right for you.